via Above Top Secret
10.
Zaphod Beeblebrox
Debuted in:
Hitchhiker's Guide to the Galaxy: The Primary Phase - Fit the Second
(1978)
Douglas Adams made a huge impact on pop culture across radio, literature, television, and film with his creation of
The Hitchhiker's Guide to the Galaxy
. Out of all the memorable characters to populate what became best known for the original five books (
Hitchhikers
;
The Restaurant at the End of the Universe
;
Life, the Universe, and Everything
;
So Long, and Thanks for all the Fish
;
Mostly Harmless
), choosing the obnoxious Galactic President Zaphod seems like the best choice for an era filled with politicians most people would rather forget. Later featured in a spin-off short story (
Young Zaphod Plays It Safe
), this parody is so spot-on that the longer H2G2 endures the more likely that future iterations will gravitate more in Zaphod's direction, whenever someone has the opportunity to follow-up on Eoin Colfer's headstart (
And Another Thing...
). In the 2005 Hollywood version of
Hitchhikers
, Sam Rockwell offers an amusing taste of things to come.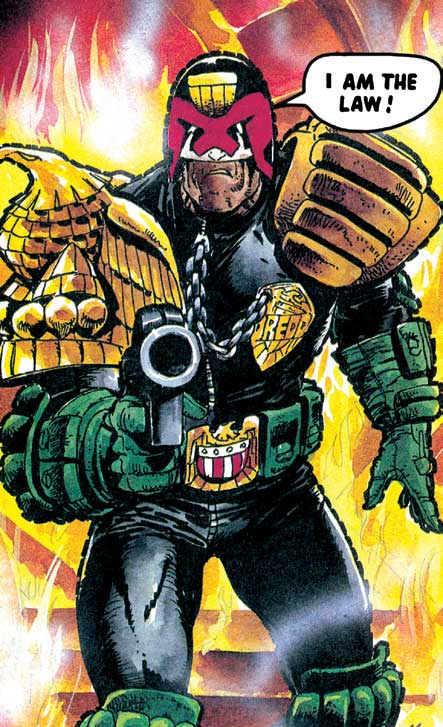 via Comic Vine
9.
Judge Dredd
Debuted in: 2000 AD No. 2 (1977)
This iconic British creation is actually an American character, part of a future filled with a version of law enforcement that reflects its bleak landscape. A reliable comic book presence that has crossed over from his country of origin to series published by DC and IDW in the United States, Dredd has also been the subject of two films (1995's Judge Dredd and 2012's Dredd). Dredd's endurance over the years belies a relatively low profile compared to other creations on this list, but with his continued appearances makes a bigger and bigger statement to long-term viability.
via Comic Vine
8.
Dream
Debuted in: Sandman #1 (1989)
Neil Gaiman's version of a classic comic book superhero quickly became a full-blown literary phenomenon, helping launch DC's Vertigo line and establishing Gaiman's later widespread success. The original seventy-five issues of the series gave way to much-celebrated returns in the pages of Endless Nights and The Dream Hunters, as well as the current Overture. Joseph Gordon-Levitt is currently working on the character's big screen debut. Dream's sister Death, who became the quintessential Goth Girl, is another reason this one continues to endure in pop culture. Dream is also known as Morpheus, and represents one of the more philosophical creations from any culture in the past hundred years.
via Wired
7.
Gollum
Debuted in: The Hobbit (1937)
It's safe to say that J.R.R. Tolkien, like Douglas Adams, is responsible for more than one memorable character, but Gollum in particular skyrocketed in the popular consciousness after Peter Jackson's depiction of him in his adaptations of The Lord of the Rings, particularly thanks to the much-acclaimed motion-capture performance of Andy Serkis. A portrait of abject corruption, Gollum is surprisingly one of the more nuanced characters on this list, a conflicted individual who sometimes literally argues with himself over doing the right thing. His first appearance, however, depicted a still more complicated version, as a playful Sphinx figure who delights in riddles. Not bad for someone who embodies obsession...
Debuted in: The Lion, the Witch, and the Wardrobe (1950)
Well, unlike Adams and Tolkien, C.S. Lewis probably knew exactly which character from his books outshone the rest. That would be the eponymous lion, Aslan, who leads the Pevensie kids and later groups of Narnia heroes to eventual victory in The Last Battle. Various screen adaptations led to Liam Neeson voicing him starting with 2005's Lion. Lewis plainly used Aslan as a religious allegory, but you don't need to care about the symbolism to know that his brutal murder in Lion is the most affecting scene of the series and one of the defining moments for any character on this list.
via Broadway
5.
Mary Poppins
Debuted in: Mary Poppins (1934)
The star of eight books (
Poppins
,
Mary Poppins Comes Back
,
Mary Poppins Opens the Door
,
Mary Poppins in the Park
,
Mary Poppins From A to Z
,
Mary Poppins in the Kitchen
,
Mary Poppins in Cherry Tree Lane
, and
Mary Poppins and the House Next Door
) was popular before the 1964 film, but chances are she endures most
because
of the film. The torturous journey from book to film was the subject of the 2013 movie
Saving Mr. Banks
, in which a battle of wills is pitched between creator P.L. Travers and Walt Disney. Mary may be reflective of how others from the list may age as the years advance, but she's a remarkable entirely of her own accord, a modern fairy tale creation about the transformative potential in both kids and adults.
via Audioboom
4. Doctor Who
Debuted in: Doctor Who: An Unearthly Child (1963)
The Doctor's significance has increased in recent years as he becomes more and important as the most significant British TV character around the world. It doesn't hurt that after fifty years he remains one of the most unique fictional creations to emerge from anywhere, who has survived more than a dozen portrayals (including an unofficial one in the form of Peter Cushing from 1965's
Doctor Who and the Daleks
and 1966's
Daleks - Invasion Earth: 2150
) without skipping a beat thanks to a built-in explanation concerning regeneration. In recent years
Doctor Who
has even had a number of spin-offs (
Torchwood
and
The Sarah Jane Adventures
). It might also be noted that Douglas Adams first envisioned H2G2 as a story of the Doctor.
Debuted in: Casino Royale (1953)
Ian Fleming created a prototypical spy in his fourteen books, but he likely had no idea how big 007 would become after Sean Connery appeared as the character for the first time in 1962's Dr. No. Bond had previously been adapted to screen in a 1954 TV version of Royale, which was also adapted in one of several noncanonical films, with David Niven's portrayal in 1967 and later again with the reboot films starring Daniel Craig. Various authors have continued the literary exploits, but Bond, James Bond has become one of the most significant film characters ever, arguably the single most important one.
via Today
2.
Peter Pan
Debuted in: The Little White Bird (1902)
The oldest character on this list had a complicated path to full-blown exposure. Author J.M. Barrie adapted his creation for the stage in 1904's Peter Pan, or the Boy Who Wouldn't Grow Up, and then back into literature for 1911's Peter and Wendy. Yet his legacy kept building. Disney included him in its series of animated films with 1953's Peter Pan, a modern live adaptation was made in 2003, Spielberg created his version of a sequel with 1991's Hook, and Barrie's own story was told in 2004's Finding Neverland. Dave Barry and Ridley Pearson have a series of books that take an alternate look at the mythology that were later adapted to stage as Peter and the Starcatcher. 2006's Peter Pan in Scarlet was officially commissioned by the Great Ormond Street Hospital, which received the copyright from Barrie in 1929. The Doctor, Bond, and Peter all serve as unique insights into modern England, how its countrymen view themselves. Notably, they're all isolated figures who can count on the support of others, but most often exist in isolation, surely a statement on the post-empire era.
via Geek Tyrant
1.
Harry Potter
Debuted in: Harry Potter and the Philosopher's Stone (1997)
Is it too early? Does Mary Poppins offer an example of what early fame can lead to, without the intervention of other media? Except Harry has already leaped into the adaptation phase, and led the whole modern thrust for franchises at the box office. By the time of 2004's Harry Potter and the Goblet of Fire, J.K. Rowling's creation had become a global phenomenon, a series of books that children of all ages eagerly embraced. Harry's world includes the sum of every other character on this list (the Doctor himself is a space-age wizard), an orphan figure on a massive quest against evil and general acceptance, who navigates a story filled with every imaginable obstacle, dirty politicians, self-centered jerks, secret agents, committed allies, and nurturing support that otherwise keeps him learning his own lessons. Since 2007's Harry Potter and the Deathly Hallows, Rowling has insisted she won't write anymore Harry Potter adventures themselves (echoing the most significant British character of a century earlier, Sherlock Holmes), though she has since written additional stories around him. Like Star Wars before him, Harry is a perfect representation of what it takes to dominate pop culture, make an impact early and make it stick. Will kids still read the books as eagerly as they did a decade ago, will the films last? The further careers of Daniel Radcliffe and Emma Watson may be one indication. Yet in time, there will be other adaptations, and if history is any proof, Rowling won't stay away from Harry forever, whatever that ultimately means, whether additional short looks as she's done lately, or more books...Harry is a statement on tradition, the present, and a cautionary tale for the future. Countless imitators and competitors sprang up in his wake, yet none of them have captured the sheer breadth of his achievements to date. As with the others on this list, this is a story that continues. And that's what it's all about.